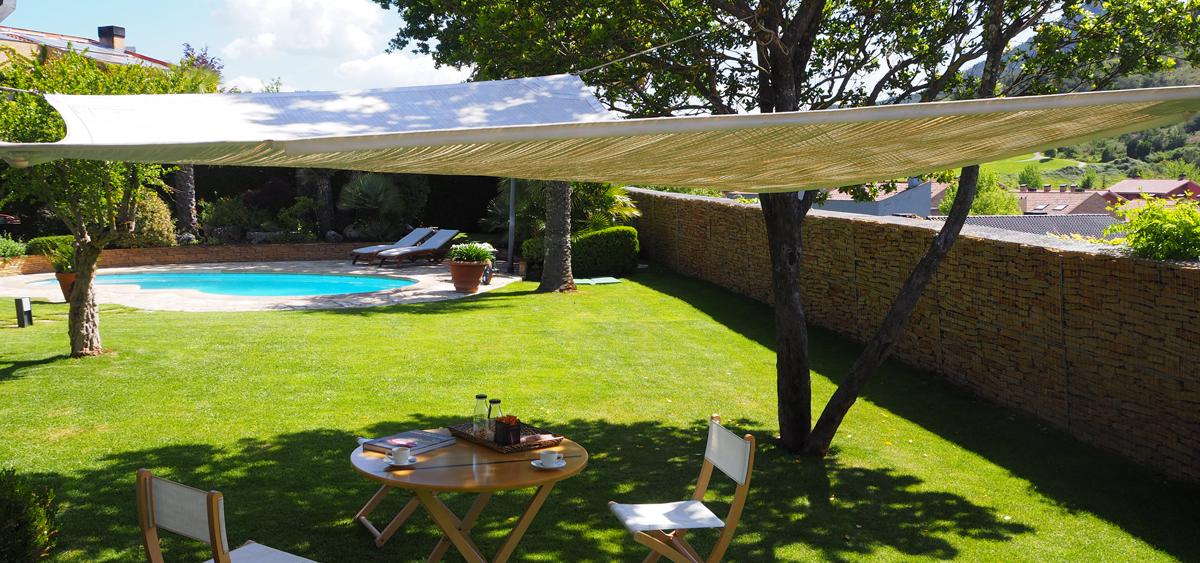 PATIO SHADE SAILS
DVELAS designs and manufactures shade sails using sails recovered from Maxi Yachts with high technology fabrics and the latest generation textile composites.
Circular Economy in the shade sails of residential patios, urban spaces and hospitality.
RESIDENTIAL CANOPY
URBAN SHADE SAILS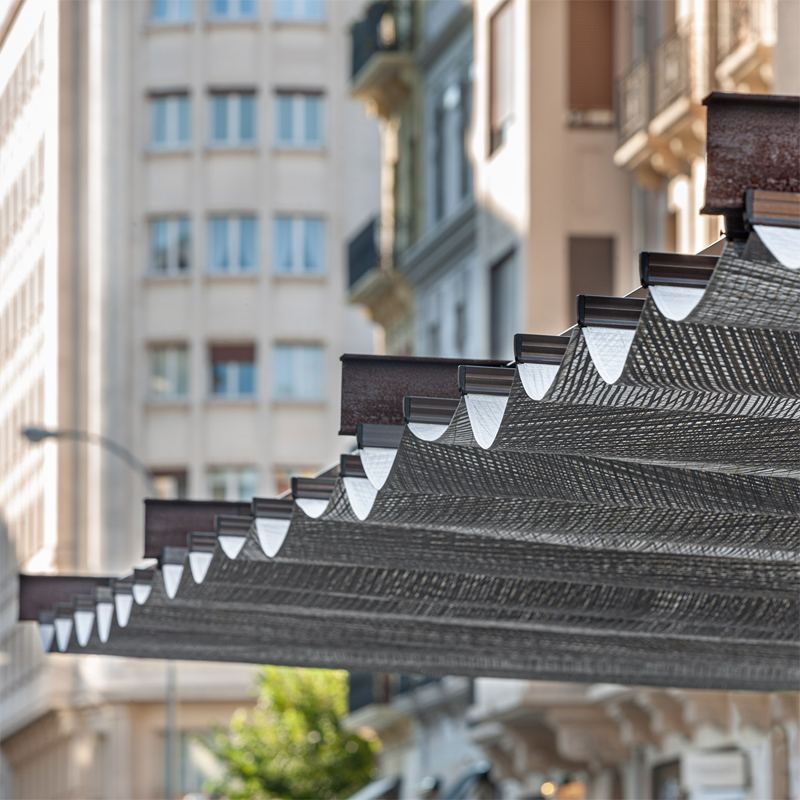 HOSPITALITY AWNINGS
We use recovered boat sails from modern Maxi Yachts. The fabric is a Dyneema® reinforced membrane, which is an incredibly resistant and ultra-light fiber used in sectors that demand extreme resistance. The Dyneema membrane of these sails is armed with aramid and carbon fibers. This backlit material is spectacular, as it provides both a dense shade, as well as a beautiful textural effect through which natural or other lighting extenuates, offering an appearance reminiscent to traditional natural heather ceilings.
Fireproof treatment can be applied to this material thereby obtaining the classification C-s2, d0, of the Euro code suitable for interiors.
Each space is different and determining the shape, dimension and type of support of the shade sails can be somewhat complex, for this reason, at Dvelas we have a team of architects and designers that work in unison to ensure that our clients receive technical support, based on images and dimensions provided by the client, whereby we propose possible solutions in 3D format to view the optimal installation. Manufacturing is done in our own workshop ensuring rigorous process control and coordination between design and production.
DVELAS certifies that all its products are made with recovered sails whose origin data (the ship of origin, its port of origin, the type of sail and the original manufacturer) is identified on a sewn label, as well as accompanied by an original certificate.
Click here to download technical sheet
SUPPORT AND TENSION SYSTEMS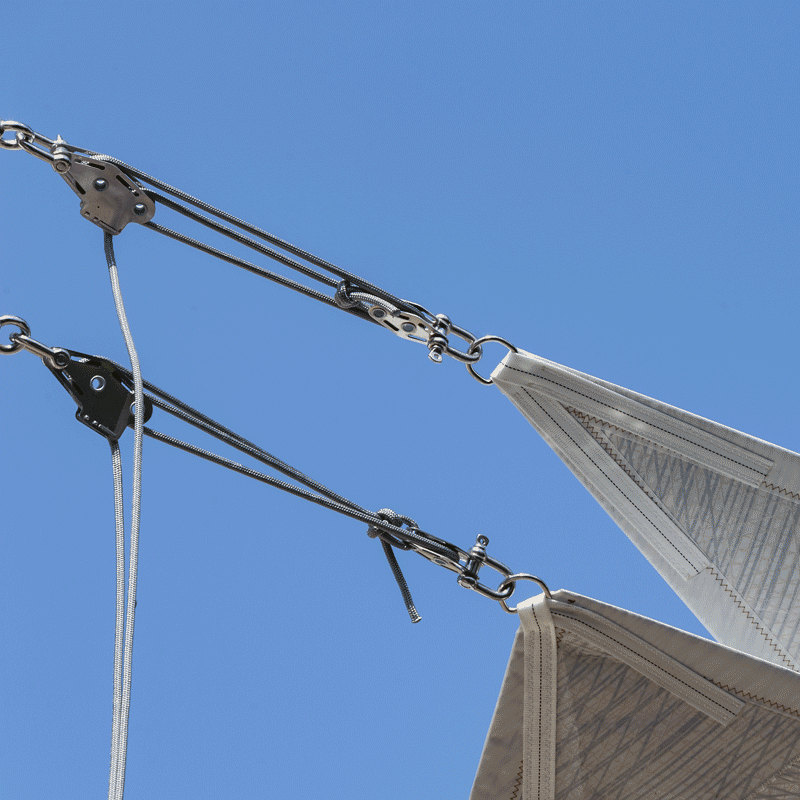 The necessary material for anchoring the systems is provided with each shade sail design.
The basic tension system is made up of a rope, carabiner, eyebolt pulley and cleat. Each corner of the sail has a tension system.
Depending on the size of the sail, reduction pulleys are also supplied to reduce the force required to tension the sail.
DVELAS has designed its own mast that incorporates four rails of variable height and that allow for speedy modifications in the height of the sail, and or hold several sails at the same time. Variable-height masts can be attached to an existing floor, anchored to the ground, or clamped to a wall.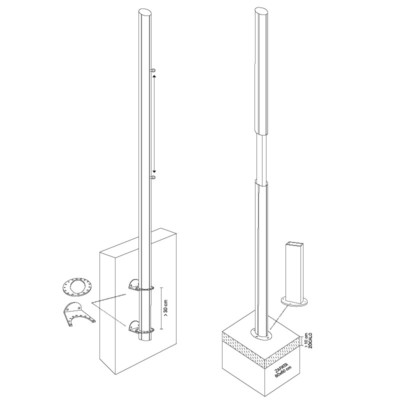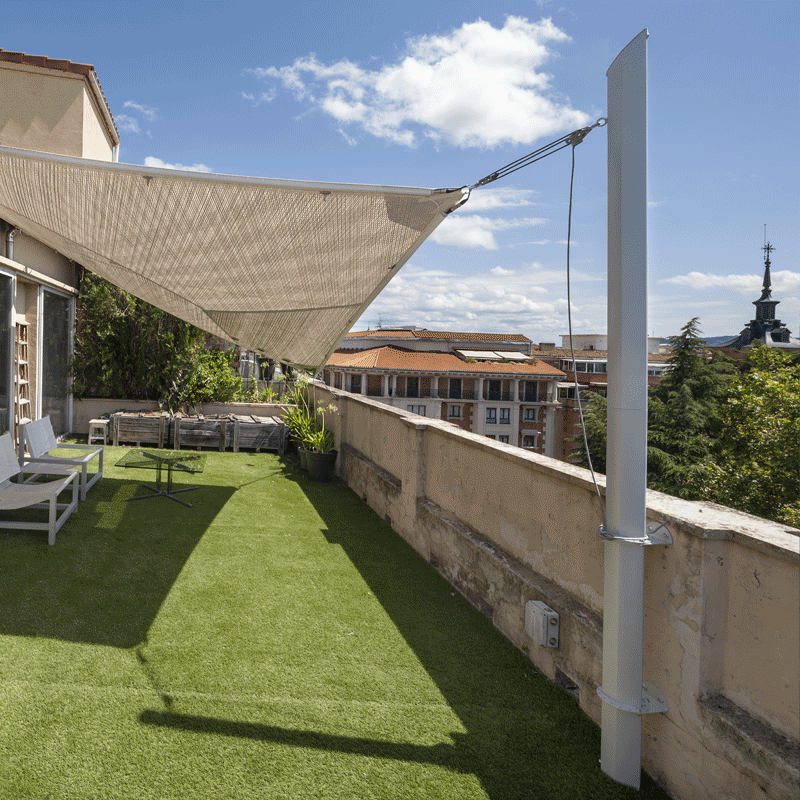 SHADE SAILS' APPLICATIONS & TREATMENTS
The shade sails made with recovered material and designed specifically for each occasion can have different applications according to the client's requirement: light, photocatalytic cleaning of the air, fire retardant treatment, air cooling …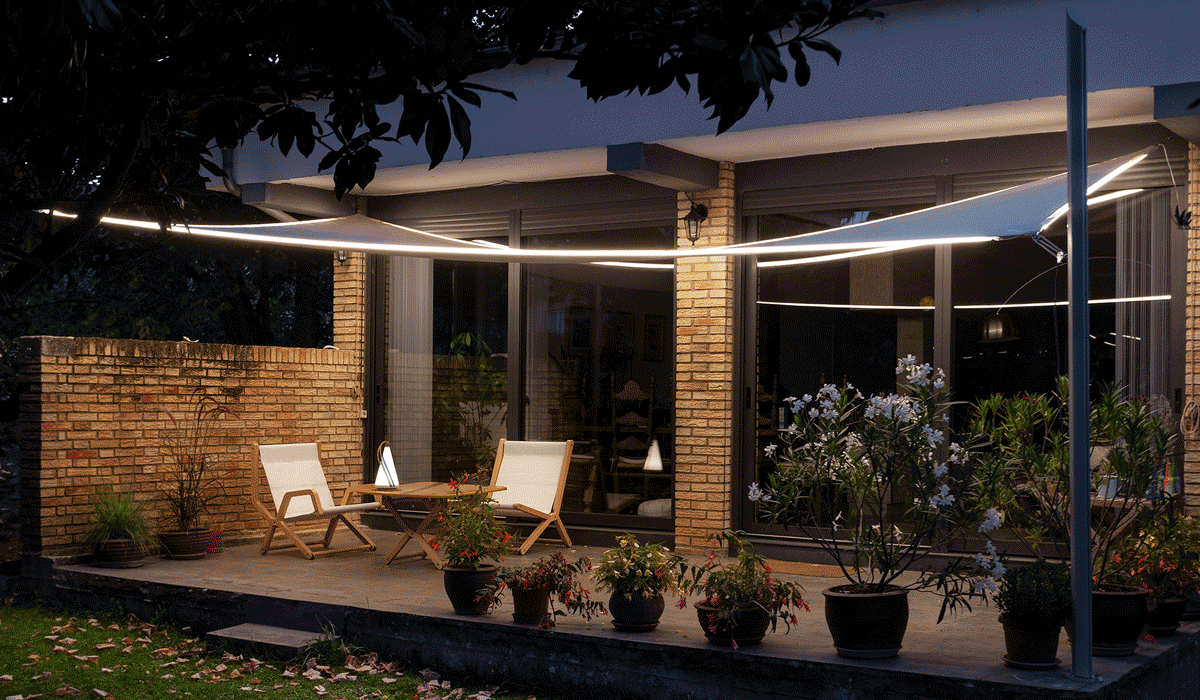 Shade sails are the ideal solution for providing shade and privacy to outdoor spaces. The smooth lines of the stretched fabrics always provide a stylized aesthetic to spaces, as well as improve their beneficial features.
These sails serve as excellent support material for installing lighting, which is why we have developed a system that incorporates lighting within the contour of the sail, transforming it into both a shade by day and a lighting system by night.
The positioning of the light located linearly on the perimeter of the sail accentuates its beauty and ensures adequate lighting below. The lighting is composed of LED strips of warm light. It has a fabric diffuser that filters the light. The feeder is installed outside the sail and the system has been designed and is suitable for outdoor use and the added with IP65 environmental protection.
SAILS THAT CLEAN THE ATMOSPHERE

The sails can be treated with a nanotechnological chemical preparation capable of eliminating dirt and toxic particles in suspension through the incidence of solar rays. This process, called photocatalysis, eliminates CO2 to generate organic matter. Likewise, it eliminates common pollutants in the atmosphere such as SOx, VOCs or NOx, through an oxidation process activated by sunlight. It is estimated that 4m2 of this type of fabric is equivalent to removing a car from circulation for a whole year.
We have developed an air conditioning system through high pressure water mist, consists of expelling thousands of micro-drops in liquid state into the environment, these micro-drops, being so fine, vaporize at high speed, allowing the environment to be cooled without wetting. This allows the temperature to be reduced to 10-11ºC. This system can also be used in shade sails, incorporating feeding tubes, micro nozzles and pumping equipment that regulates the operating time and duration of breaks. The system is used to repel mosquitoes and to deal with dust, smoke, pollen and odors, it allows to cool any open space and enjoy maximum comfort.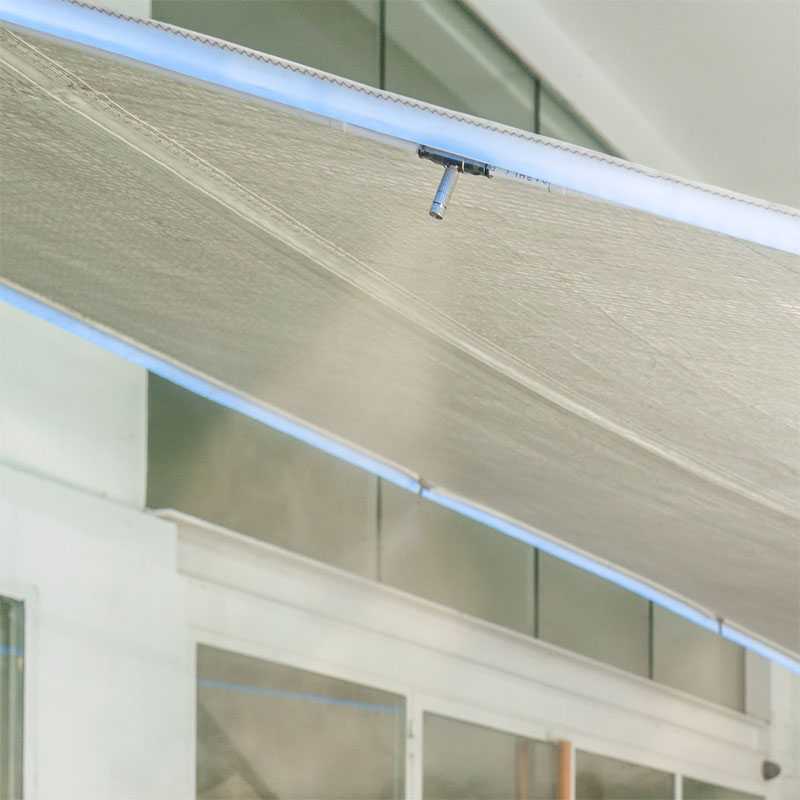 Sustainable awnings
100 % recovered maxi yatch sails
Circular economy
Outdoor excellence
High quality raw material from european manufacturers